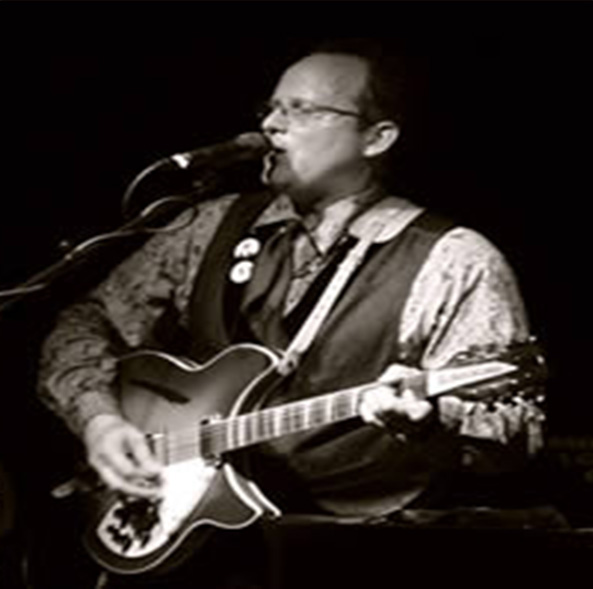 Biography
Forty years after forming his first pre-teen band, thirty years since his first recording session, 2005 may be the biggest year yet for Austin's Freddie Krc, better known as Freddie Steady—and it's barely half over!
While being inducted into the Texas Music Hall of Fame (joining such Lone Star legends as Buddy Holly, Bob Wills, and Stevie Ray Vaughan), Freddie regrouped his renowned power-pop trio from the early '80s, The Explosives, to commemorate the release of a double-CD retrospective, appropriately titled KaBOOM!
They, in turn, were reunited with their sometime frontman (and fellow Hall of Famer), Roky Erickson, for his triumphant comeback at the South By Southwest music conference. And Freddie's band The Shakin' Apostles morphed into a new aggregation, The Freddie Steady 5, and cut a most auspicious debut—the ultimate Texas-style party CD, Freddie Steady Go!, on Fat Pete Records.
Krc (rhymes with "church") talks about the CD's concept with the unbridled enthusiasm of a 10-year-old boy seeing his first rock concert. "It was a blast," he says. "I've wanted to do this kind of record for a long time, covering the music that was going on when I started playing—all Texas stuff—to kind of let people know where I'm coming from.
The first song I picked was 'She's About A Mover,' because the first live band I ever saw was the Sir Douglas Quintet, when I was ten years old, at the Baytown High School gym."
He eventually played drums on tour with Sir Douglas, the late great Doug Sahm—just one of the dozens of Texas and non-Texas luminaries who over the years have enlisted Krc to wear one of his many musical hats.
On record, as on stage, Freddie is equal parts excitable boy and seasoned professional—having appeared on more than one hundred albums, with such diverse artists as Carole King, the Faces' Ronnie Lane, songwriter Wes McGhee, Jimmie Dale Gilmore, and Pink Floyd's Roger Waters, in addition to Roky Erickson and Jerry Jeff Walker.
For years Freddie's main calling card was as a rock-steady drummer. As guitarist/producer Pete Anderson recounts, "When I first started touring with Dwight Yoakam, Freddie Krc was the first drummer I met outside of Los Angeles who played drums the way I thought they should be played. Everybody in L.A. could try to do it, but they didn't know the real way.
I don't know where Freddie's from, but he's got a handle on that Southeastern Texas thing. From San Antonio over to New Orleans, there's something going on. Like Doug Sahm, who could play blues, play country, and play boogaloo funny shit—Freddie had that wired. I went, 'This guy's the real deal!'"
Anderson's musical compass is right on the money. Freddie grew up in the Gulf Coast town of LaPorte, Texas. He was playing drums with his first band, The Sound Kings, by age nine, but eventually expanded his instrumental arsenal. "When I moved to Austin in January of '74," he recalls, "I played solo acoustic gigs, singing and playing guitar, at a barbecue house five days a week. The first group I was in was a Dixieland band, playing drums. I didn't know anybody; I just took what I could get."
The following year he started drumming with B.W. Stephenson, of "My Maria" and "Shambala" fame, and cut his first sessions for the singer/songwriter's We Be Sailin' album.
He joined Jerry Jeff Walker's band in 1977 and played on A Man Must Carry On. He left the group (which also included future Double Trouble keyboardist Reese Wynans) in '79, and formed The Explosives. In the late '80s he formed Freddie Steady's Wild Country, while the '90s saw him reunited with Walker for another string of albums and fronting the critically acclaimed Shakin' Apostles.
The Explosives featured three writer/singer/instrumentalists playing tight, catchy, energetic power-pop, with a few '60s garage covers ("fun stuff," says Freddie) thrown in. "We were really drawing from garage stuff, but we played the new wave venues and opened for The Ramones and for X's record release party in L.A. Especially in Austin, people said, 'Well, they're not punk'—but we never said we were. I certainly never thought of us as a punk band.
Now I'm real comfortable if someone wants to call it power-pop; I can live with that label, because it's kind of what we were. We excelled as much as we did, because I looked beyond Austin, and we could come in and do a show."
The concept of showmanship was, ironically, at odds with much of the Austin scene at the time, but Freddie never bought into that. "I just remember when I was a kid, how exciting it was to go see people dressed wild, the lights on the amps glowing; it makes a difference. Seeing Sam The Sham on 'Hullabaloo' is indelibly etched in my mind! If there's no music to back it up, then we all see where the bullshit is.
But if you can back it up—I mean, people forget that musicians like Jimi Hendrix were showmen. When [Austin punk mecca] Raul's had a battle of the bands, some groups were bothered by the fact that we could really play. 'Oh, well, they're professionals.' I was almost embarrassed for them. I'm thinking, 'God, it's like Spanky's little club house.' We just happened to be guys who'd done things to garner some kind of reputation in town, but I was 25—the same age as The Ramones or The Clash or The Skunks.
I quit one of the best gigs in town to do that music. I sat in my room all day trying to book us—from ten in the morning until six in the evening—and there weren't any phone machines back then. It wasn't like I was missing a shift at Wendy's to go play a gig; I really gave up a lot. I quit Jerry Jeff, and lost the house I owned, just to play that music."
Freddie Krc is possibly the only musician to list both Ernest Tubb and The Chocolate Watchband as musical influences, although his biggest inspirations are probably The Beatles, Woody Guthrie, and Moby Grape. "I never saw them live," he says of the Grape, "but I thought they were one of the best bands I ever heard. My other favorite scene is all that San Jose stuff, like The Beau Brummels, Syndicate Of Sound, and People."
Krc is quick to point out that the FS5 are not a cover band. "No, not at all. It's just a coincidence that when I changed the name of the group, this happened to be the first thing that came out. But live, I sprinkle them in with my originals, and they seem to sit well side by side. It's fun, and the songs connect with the audience. And it's a good touchstone for people to kind of see where you're coming from. I think it gets them more interested in your original stuff."
On Freddie Steady Go!, he traverses Texas from El Paso (Bobby Fuller Four's "I Fought The Law") to Houston (Bill Gibbons' pre-ZZ Moving Sidewalks, with "99th Floor"), from San Marcos' Roy Head & The Traits ("Treat Her Right") to Michigan's Question Mark & The Mysterians ("96 Tears"). "I know Detroit kind of claims them because they were based there," explains Freddie, "but they were all guys from Texas who somehow ended up there and played together. I figured that's close enough, because I love that song."
Equally interesting (and rocking) are the more obscure, regional hits Freddie resurrects. "I had to bring a little turntable and my 45s into the studio, because a lot of this stuff is not on CD. 'I Can Beat Your Drum' was Fever Tree before 'San Francisco Girls'; 'I Know You Cried' was by The Sherwoods, who were a Houston band, but Mike Claxton, the lead singer who wrote the song, was from LaPorte; and The Vibrations, who did 'The Angry Sea,' were also from LaPorte, and were signed to Crazy Cajun by Huey Meaux. If you were in Texas, you played Elevators stuff, and I played 'You're Gonna Miss Me' in junior high. The Clique covered the 13th Floor Elevators' 'Splash 1' and had a regional hit on Cinema Records."
The inclusion of "Western Union" by The Five Americans brings things half- if not full-circle, back to Jerry Jeff, where Freddie was a band mate of Americans alumnus Bobby Rambo.
As a special bonus, Freddie also contributed two new originals to the CD. "Those tracks were the perfect opportunity to get my friends together from the old Sound Kings days," he smiles. "J.B. De Los Santos plays on them, and his older brother, Steve Santos, wrote 'I Want You To Know' for the Promarks. They were another LaPorte band, and as far as I know that's the only record they made. In LaPorte, we were the LaPorte Bulldogs, so that's how I came up with the instrumental, 'We're The Bulldogs.' LaPorte is a very French town, right on the coast, with stories about Jean Lafitte and buried treasure, so I wrote 'Pirate For Your Love.'"
Since 1998, incidentally, Freddie Krc has been the only Texas songwriter signed to a publishing deal with the legendary team of Leiber & Stoller, and he still gigs regularly as a solo singer/songwriter.
Of the cover songs, Krc concludes, "I wanted to stay pretty close to the originals without being slavish to them, but really try to capture the energy and the fun. When you cover stuff, it's still going to sound like you, unless you're one of these bands that purposely don't sing like themselves. My version of 'Not Fade Away' is somewhere between Buddy Holly's, the Rolling Stones', and the way I do it." "Not Fade Away" is a highlight of any Freddie Steady 5 performance, with Freddie trading his dual harmonicas for a pair of drums sticks for a thunderous duel with drummer Waco Jack McVey.
"Narrowing the covers down to sixteen songs was the hardest thing," Freddie sighs. "I'm hoping we can do a Volume 2 at some point."
Allow me to be the first to second that motion!
--Dan Forte, 2005